Unlocking Revenue And Reducing Costs
How Hands-free Documentation Drives Revenue
For Your Senior Living Community
A Senior Living Blueprint
You shape the quality of care and the success of your senior care facility. It's time to turn your staffing challenges into opportunities for increased profit and better care outcomes.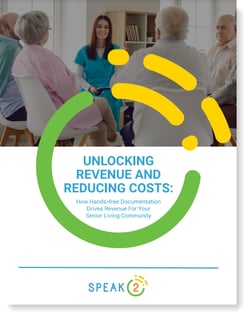 Use our latest ebook to help!
Why This Ebook is a Must-Read:
Drive Revenue Through Efficiency:
Find out how streamlining ops frees up funds, allowing for strategic reinvestment into areas that drive resident satisfaction and profitability.

Embrace Innovative Solutions:
Explore hands-free documentation—a transformative approach that ensures every service is accounted for, maximizes staff efficiency, and significantly boosts your bottom line.

Do Not Miss A Dime:
Learn how to charge for all the work being done!